od pobřeží k pobřeží
od Atlantického oceánu až po Středozemní moře
od Albarino po Monastrell
Grape Hondarrabi Zuri
Hondarrabi Zuri (on-da-rabbi zorry) is the main grape variety used to make the unique Crisp style wine from the Basque region of Spain known as Txakoli (cha-ko-lee), as well as Txakolina (cha-ko-lee-nah) and Chacoli (cha-ko-lee). Wine production in this region of northwest Spain was in decline until a major revival was initiated in the 1980s.
This is one of the coolest wine regions in Spain and the Atlantic Ocean to the north, the Pyrenees to the east and the Basque Mountains that run along the coast govern its climate. Vines grown on slopes overlooking the ocean benefit from sea breezes that help to keep them healthy and disease free. Hondarrabi Zuri is the dominant grape variety here, and it is used exclusively for the production of Txakoli, which has gained increasing attention internationally.
It was once thought that Hondarrabi Zuri was indigenous to the Basque Country, but analysis now shows that it is in fact the Courbu Blanc variety from southwest France. There is also a red grape variety called Hondarrabi Beltza, but it is unrelated to Hondarrabi Zuri – the word "zuri" means "white" in the Basque language and "beltza" means "black". Both of these grape varieties are named after the port town of Hondarribia in the province of Gipuzkoa, which is very close to the border with southwestern France.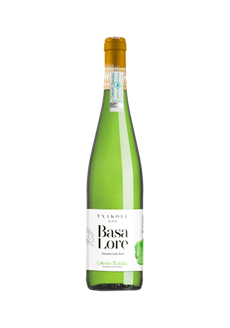 2019
Color
Grapes
Regions
Producers
Producers