od pobřeží k pobřeží
od Atlantického oceánu až po Středozemní moře
od Albarino po Monastrell
Grape Sousón
Sousón is a Spanish and Portuguese red wine grape variety vitis vinifera. It is also known by the Portuguese synonyms souzao and vinhao. The grape is known for producing richly colored wines with coarse and raisin flavors.
Variety of native Galician red grape that we can find in the Rias Baixas and Ribeiro Denominations of Origin, it is cultivated in very little quantity today, so it is increasingly difficult to discover wines made with this grape. However, it is one of the indigenous red varieties on the rise in Ribeiro, currently being the first in production, with great polyphenolic potential.
Agronomically, it is a plant with little vigor, resistant to drought, adapting well to loose soils, it has medium fertility and little productivity (8 - 11 Tn / Ha). Its budding season is mid-late and its maturation cycle is long, so its location predominates in areas conducive to early maturation. It has high sensitivity to powdery mildew, medium to mildew and low to Botrytis.
In Portugal it is often used for the production of Port wine. It is also authorized in the Portuguese DOC of Douro and Dao-Lafoes.
Its wines can reach high alcoholic graduations between 12.5 - 14.0oC, preserving an excellent total acidity of 6 - 8 g / l expressed as tartaric acid, but its most representative characteristic is its high polyphenolic content that provides an excellent structure and intense coloration.
On the nose we can find fruits of the forest such as blackberries, and a light aging in oak barrels gives it a touch of distinction. We can also find it mixed with other varieties both red and white in the area. And it is a wine that we do not usually find as monovarietal but as a base in different proportions for the development of interesting, different and peculiar wines.
It is necessary that they reach more or less intense maturations depending on the type of wine to be developed and avoid herbaceous sensations in the long macerations that the variety allows.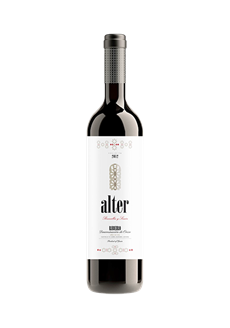 2018
Color
Grapes
Regions
Producers
Producers